As we're preparing several amazing things for Codebits, we'd like to share some information and numbers with you.
Quizzes
The first quiz was harsh.
We know.
We apologize.
We're rumoured to have some of the toughest job interviews in Portugal.
A couple of years ago we interviewed a guy who actually interrupted us to ask which position we were interviewing him for; he said he was finding the interview way too easy.
In hindsight, we shouldn't have let that guy run the quiz this year without anyone double checking the problems.
We fixed that now :-)
Seriously, we reinstated a team of quiz trialing and we're giving that guy the meds every morning.
Anyway, after a rough start with an insanely hard quiz (the solution will show up soon), we've now moved to some mini quizzes.
If you don't know it yet, your Codebits homepage will display one of the talks you haven't rated yet or one of the quizzes you haven't answered. You're not obliged in any way to do so, but there is a reminder there, just in case.
If you want your chance to participate on the Quiz at Codebits, don't forget to answer as many quizzes as possible. Don't feel discouraged if you don't get one of the quizzes; trust us, participate.
Talks
We currently have 78 talk proposals (not counting a few that have been removed by their proponents).
Respect.
Of those, 30 have already been accepted and confirmed by their respective speakers.
We're slowly assembling and reassembling the program and your feedback keeps being very important.
Don't forget that while your thumbs up/down and talk feedback is relevant for the choices we make, going to the calendar and marking sessions with the "I want to attend" helps us reduce collisions in personal schedules. But we'll make another note of that once we put all the talks there
Candidates
In previous years we've seen the number of candidates grow constantly up to the week prior to Codebits.
This year shouldn't be an exception, but it's interesting to note that we're already past 700 candidates and there's still over two months to go...
At the time of this writing we have received 724 applications to attend Codebits.

314 have already been accepted.
That leaves us with 286 tickets and 406 candidates, 47 of which should have received a "short bio" notification (we're pretty sure a few others will too), requesting them to revise what they've written so that it gives us sufficient information for the moderators to make decisions.
If you haven't received that email but you're now thinking "oh, crap, maybe I should've written more"... well... that's probably a sign that you should, isn't it? So get to your profile and edit it! It's not that we don't want to accept everyone; we just can't; and of course that those who seem the most deserving of attending are going to get accepted first. Even if you're worthy of attending, it's much easier for us to approve your application while we still have a few hundred tickets available than when we only have a few dozens.
Remember: having a great bio two days before the event is not going to do you any good; we'll be packed way before that. Spread the word.
And now for something completely different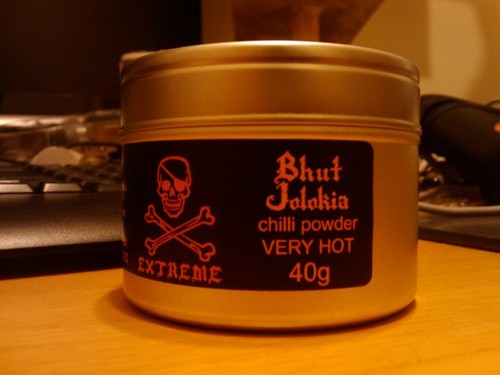 Yes, it's Codebits related.
And yes, the trials are being painful.
Oooooh, pirate of DOOOOOM chili, I want to try that!
De
C.G.
a 9 de Setembro de 2010 às 12:07
Let me guess, the guys who went to the USA for the 13th Annual SXSW Web Awards and were almost obliterated by nuclear tacos want to repeat the same experience in Codebits.
You say to mark sessions with the "I want to attend" to help you reducing collisions.

What I understand from this is that if a lot of people want to attend two concurrent sessions, you'll move one of them, right?

However, if you click "I want to attend" on a concurrent session, you get an alert saying that you'll cancel the former choice.

"You're booked for this hour with:
'Collecting and Visualizing Data'
If you book this session, you'll cancel the other one.
Do you wan't to proceed?"
De
jac
a 9 de Setembro de 2010 às 20:08
You are absolutely correct.

Fixed.
De Jonatas Miguel a 9 de Setembro de 2010 às 12:29
Don't release the answer yet! How about letting that first quiz keep going until the last possible moment (i.e. the last day of all quiz submissions)? Since it's such a hard problem it will give enough time for even people who have not been able to find an answer in the allotted time a chance to be able to solve it. That way, us noobs might still have a shot! FREEDOM! ... *mumble*got to stop watching braveheart, damn reruns*mumble*
De
Dextro
a 9 de Setembro de 2010 às 14:41
Well you just made me go "HOLY SHRIMP!" just by the glimpse of that image (seen it before btw ;) ) so What The Heck are you guys planning and should I start running for my life now?
Yes, they are being painful. And not only going in.
De No1TheLarch a 14 de Setembro de 2010 às 00:45
So I can conclude by the picture of the Chilli Powder that the number of toilets of this year's edition of Codebits is going to be considerably higher xD