That's right, we have 200 entries left to assign, and while we know this isn't easy for anyone, it certainly ain't easy for us.
400 lucky candidates have already been approved to attend this magical experience and 400 more are now waiting.
Exactly 400. Right now we have 800 candidates.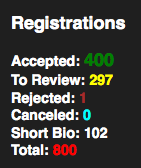 The process may be complex, but there are many factors we account for, including (but not limited to):
a proper bio*
applying to attend as early as possible
proposing a talk as early as possible
voting up/down on talks
providing useful feedback on talks
submitting a project in a previous year
a strong involvement/commitment to the event (twitter, blog, etc.)
some sense of humor
creativity
etc.
"What about Karma", you may ask?
Karma served its purpose, and is still sometimes useful.
It helped us track those users who hadn't filled in a proper bio and it helped tracking some users who were really desperate to attend. But that's it, it helped pointing out some candidates, we still had/have to make the decisions ourselves.
To help you understand a bit of what goes through the minds of the moderators, here are a few profiles that would probably be accepted:
Someone who hasn't attended Codebits before but took the time to write a bio where they explain briefly their involvement with programming, their desire to attend this year's edition - which has something to do with the talks and meeting new people - and slightly hints that they'd like to create a project; they also took the time to vote up/down on most talks;
Someone who attended Codebits last year and even took the time to join a project; in their bio, this candidate tells us they want to attend again because they're interested in some of the talks and they'd like to join a project once again and contribute to it somehow;
Someone who attended last year, didn't join a project, but clearly was involved in everything happening there: attending talks and writing blog posts on those talks and the event in general; they went back home and put that knowledge into practice.
These are, of course, just examples, and hypothetical ones.
Here are a few profiles who would probably not get accepted:
Someone who attended last year, didn't participate in any project nor gave any feedback after the event and that this year simply hits the "Apply now" button without even revising a bio that clearly needs updating;
Someone whose bio doesn't provide enough technical information on them and who didn't come back to the website since we opened registrations and they hit "Apply now" (hence: no voting on talks, no feedback, no nothing);
Someone who writes a bio that contains nothing but a link to another website (for starters, when you're reading 800 bios you don't really have time to browse through LinkedIn, homepages and others everytime one expects you too; also, usually the information you want to provide us is not the first thing that shows up).
Granted, they're just examples, and this is definitely not an exact science. Plus, there's all the other cases in between. Sometimes the bio is enough, sometimes it isn't. Sometimes we can see past the bio, sometimes we can't.
We also feel there are two important things we should make clear with this post.
The first is that many won't get accepted.
It's not doable and we know we'll eventually commit an injustice. Also, we're likely to be forced to reject some good applications due to the large number of candidates this year.
The second is that many of the ones who have applied aren't as committed as others; we know there are people who registered and applied and never gave it a second thought; they don't reply to our emails, they never logged in again; this means that the 400 candidates figure is probably a bit lower. Also, a number of people (relatively small, but still a number) always has to cancel (life happens). And, depending on several factors, we may be able to approve a few more candidates the week prior to the event.
This basically means that there's still hope.
Hope, however, won't do much by itself, so please make sure you have a proper bio.
Sometimes it may look to an outsider that the decision of approving someone and rejecting someone else may be faulty, but here's the thing: moderators work with the information they have. If your bio and all the other information we can gather on you doesn't convince the moderators, there's not really much we can do to guess all the rest about you.
Work those bios.
As a final thought for this post, and regardless of the outcome of each particular bio, we'd like to thank all of those who applied. It makes us very proud that so many are interested.
Thank you all.
* - a proper bio is one that makes you want to have the person attending Codebits with you; it tells you enough about the person to ensure they have some skills, some experience or great potential and desire to attend; it also tells you they want to attend because they're going to benefit from the event *and* vice-versa; a proper bio is not a 5 line list of technologies, it's not a "here's a link to my linkedin profile" and it's not a simple "you should approve me because I'm awesome" (if that's the case, you need to explain why you're awesome).
De
triton
a 20 de Setembro de 2010 às 18:12
hope you guys let me in for another year of awesomeness at codebits. ;)
De Ana Reis a 20 de Setembro de 2010 às 21:01
Jeez.... I'm already biting my nails :(
De
Dextro
a 24 de Setembro de 2010 às 11:57
I know everyone's already aware of how awesome I am but if you're not let me point to barneys video resume and point out that he learned to be awesome from me: http://barneysvideoresume.com/ :P
De Goncalo a 24 de Setembro de 2010 às 16:08
congratz, excellent management!
De Ivan Lopes a 26 de Setembro de 2010 às 04:24
Its nice to know where we stand.
Thanks for the spare time you toke to inform us i do really appreciate it. And it may not sound I'm not on for this but if i can't come I'm sure you guys will pick someone that deserves it and will make the event even better.

For now i can only say have a great time and hope to see you guys there.

Hey,
Will you rewiew the members with "Short Bio" ?

Carla