We went shopping.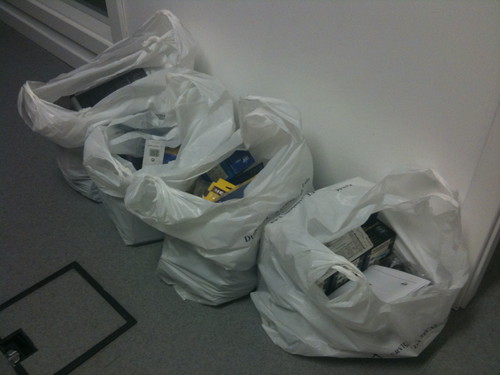 12 soldering irons - ✔
large quantities of solder - ✔
some sponges to clean the irons with - ✔
6 needle-nose pliers - ✔
6 cutting pliers - ✔
4 crimpling pliers - ✔
6 multimeters - ✔
3 X-Actos - ✔
12 speakers (8Ohms, 7-10cm diameter) - ✔
12 helping-hands - ✔
insane length of lots of different wires - ✔
mini dremel and friends - ✔
2 12V power suppliers - ✔
4 solder suckers - ✔
Philips sets - ✔
printed circuit boards - ✔
And that's just the stuff we bought last Friday; it took us over an hour to pick everything up.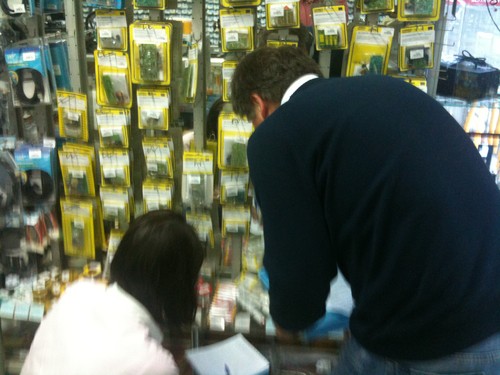 Apart from all that we should also have Arduinos (at a special price), introductory kits (basic, intermediate, advanced), leds, resistances, sockets, shields, Xbee radios, lots of sensors, etc.
The works.
All for our Physical computing area, where Filipe Valpereiro and Mauricio Martins will be managing things so that Codebits participants can grasp the basics (and not only) of soldering and/or hack on their own projects.
While this area will be available 24/7, there will be several scheduled activities.
The tentative schedule currently holds things like:
Introduction to Arduino: Analog Sensors
Introduction to Arduino: Digital I/O
How to use a soldering iron (assembling kits)
Toyhacking / Rapid prototyping with Arduino
Introduction to Arduino: Controlling DC motors and leds
Wireless communication with Arduino
Sound with Arduino
Most of these workshops are 1 to 2 hours long and will have a limit of ~10 attendees.
Many of these activities will be held more than once during the three days for that same reason.
Closer to the event (or at the event) we'll disclose how you can grab a seat for each of these workshops (but it will probably involve a flipchart with a registration list).
And we're still working on some surprises for this area.
De Rodrigo Toste Gomes a 7 de Novembro de 2010 às 21:20
I definately want to attend :D
One question: will you be teaching programming arduino with processing or using the AVR registers and libraries?
These are 1-2 hours short sessions, mostly for beginners. There will be more news on the Arduino in the next days, stay tuned!!!
Awesome, this is right up my alley :D (arduino noob)
De
pedrocs
a 7 de Novembro de 2010 às 23:06
Isn't that "analog sensors"?
De
jac
a 7 de Novembro de 2010 às 23:32
De Herman Duarte a 8 de Novembro de 2010 às 13:47
Can you give us an idea of the special price? Which boards will be available?
De Ricardo Soares a 8 de Novembro de 2010 às 18:13
e motores, arranjam e/ou ensinam a usar? :P