Gowalla is an awesome location-based social networking service with native clients for iPhone, iPad, Android, Blackberry and Palm.
Those of you who use it know it rocks; those of you who don't probably don't know it yet.
Not only does the product rock, so does their team: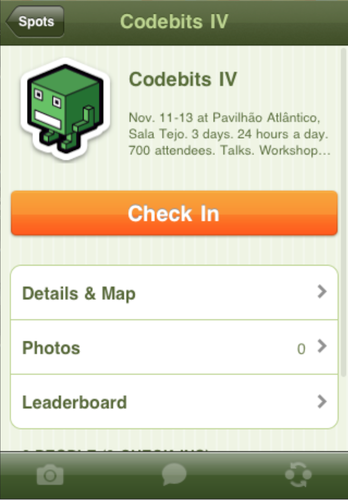 Oh yeah!
We strongly encourage you to try it out and check in with Gowalla once you reach the venue.
People on top of the leaderboard may be in for a treat, btw...
Also, we heard that several attendees were planning a short Gowalla-tour in the vicinity of Codebits to complete the trips in the area (at the time of this writing there is a Parque das Nações trip you can't complete without walking around.
Pay attention on twitter and don't forget to take pictures during that (or those) tour(s).
Have fun!
De Tomás Senart a 11 de Novembro de 2010 às 00:41
De Bauke a 11 de Novembro de 2010 às 01:45
Vou ter que fazer o venue no Foursquare?