The secondary stages aren't huge, so we'd like to ask you to be as much civilized as you can.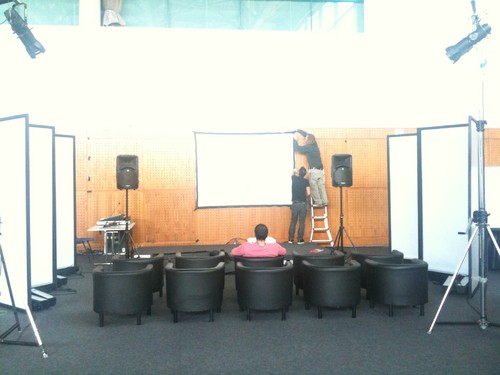 We understand that the talks are way too good and some of them have almost a hundred people wanting to attend.
The best way to achieve this is to make sure you're not standing in anyone's way. Try to be there as early as you can and sit as confortably as possible while trying not to get in the way of anyone (we have chairs, bean bags and, as a last resort, the floor isn't unconfortable either; we checked).
Codebits has a very easy-going and nice atmosphere; you're the reason for that and we hope you'll help us keep it that way.
Should large crowds asseemble by one of the secondary stages, please try to be considerate to the people working on the tables. Pushing them is really bad, and standing on a table is a definite no.
Also, note that all talks are being recorded and we have a team making sure we have them online a couple of hours after they end, so it's not the end of the world if you can't see one specific talk in person.
But this are just worst case scenarios.
Have fun!