OK, we're getting close to the big moment, opening the doors!
As we do so, here's what is going to happen:
with a huge smile, you'll take your first steps into the building in the direction of the lovely people behind the counter
they will ask you for your name and will start searching you on our database
you'll grab an ID to show them you are who you claim to be
at the same time, someone will ask you for your t-shirt size
you'll be given a badge, a welcome kit and something more; the welcome kit contains a t-shirt, but you're not supposed to open it just yet, you're supposed to try and get out of the way, because checking-in 700 people isn't easy
there should be some markers around; please write your name on your badge, both sides (twitter handle is optional, but encouraged)
you may leave the registration desk either to the left or to the right; if you need to drop a coat or something similar, go to your left
walk down the stairs, following the increasing amount of awesome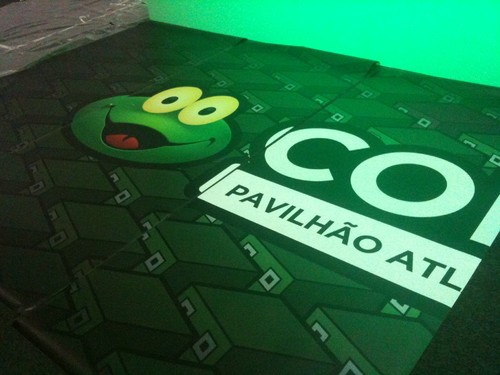 pass the Retro Computing and Gaming area, enter the big room and say "this is so cool..."
looking around you're bound to see people wearing Codebits t-shirts; this is it, open your bag and find out which one you got; notice, however, that the people at the registration desk have been thoroughly instructed not to trade any t-shirts; if you don't like the one you have or if you'd like a different one, try to find someone to trade with; also, some activities during Codebits may reward participants with t-shirts
at 10h30 the opening keynote starts; you don't want to miss that, so you should look for the signs pointing at the Main Stage
Later on we'll open another area you probably haven't noticed yet. For now, enjoy.