Sexta-feira, 26 de Novembro de 2010
When analyzing the survey for this year, the first thing we noticed was the ratio of feedback.

Back in 2008, and over the course of ~1 month, 49% of the attendees took the survey.

Last year, 2009, and once again over the course of ~1 month, 60% of all attendees took the survey.

This year, and over the course of only 48 hours, 73% of the participants took the survey!
This fact alone says a lot.

Let's talk a bit about demographics.

38% of our attendees seem to be in their early 20s. We have 3.5% stating they're under 20 and 9.4% being over 35.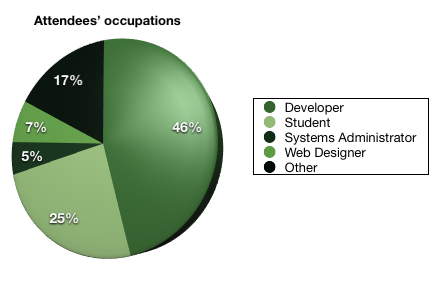 46% of the respondents claim to be developers and 25% claim to be students. We also got nice numbers for systems administrators and web designers. From the answers on the "others" field, we clearly should add options for "teacher" and "researcher".

Overall, we had 49% replying that Codebits was "Awesome" and 44% saying it was "Pretty cool". That's an overwhelming 93% good feedback.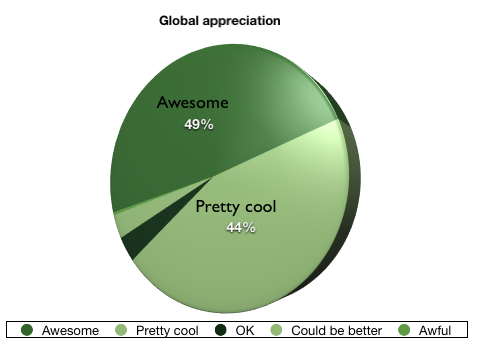 "How would you rate the event when it comes to..."

We got incredible feedback regarding the venue. 64% rate the location of the venue as being "awesome", with 28% rating it as "pretty cool". As for the venue itself, we have 44% "awesome" and 41% "pretty cool".

The registration process got 53% awesome and 34% "pretty cool"; we have definitely managed to improved this point since last year.

The worse points seem to be Working Conditions and Internet Access.

Internet Access got 4% "awful" and 19% "could be better" (yes, we understand we said "worse points" and this is not too bad, but it's still one of our worse points).

We don't take this badly because:
we always know from the beginning that this is probably the hardest task in the whole thing
we know that we did the best we could, working 24h/day to fix every network problem that would occur
this feedback is better than the one from last year
Bottom line: we have improved.

For the sake of clarity, Internet Access got 28% "OK", 31% "pretty cool" and 17% "awesome".

Working Conditions got 2% "awful" and 18% "could be better". We know that most of these 20% result from the lack of tables and chairs on the first day of the event.

We don't organize Codebits lightly, and the lack of work spaces had reasons to be.

Our statistics from previous years tell us how many of the accepted attendees will be there on the first day and how many of those will be sitting down working on projects.

Somehow, statistics failed us.

People showed up sooner and in larger numbers than expected. We were proud of that, but sadly we were not properly equipped.

Also, having a major international event occurring right after Codebits in Lisbon didn't help; you wouldn't believe how hard it was to get all the seats we got. As mentioned in a previous post, we had people running around the city looking for alternatives.

On the morning of the second day, more tables and chairs had been acquired and were ready to be used.

For the record, Working Conditions got 29% "OK", 37% "pretty cool" and 13% "awesome".

Let's head on to the satellite activities.

Analyzing the feedback regarding the satellite activities one can tell we did a pretty good job.

Retro Computing and Nuclear Tacos seem to be the activities with a better feedback.

Security Competition, Presentation Karaoke, Quiz Show and the DIY area have also received very good feedback; we're both proud and grateful to those who helped organize these things.

Here's the graph you're probably looking forward to.

Language.

70% of the participants believe that Codebits should keep having English and Portuguese. 22% suggest English only and 8% point towards a Portuguese only event.
It's also interesting to note that 75% of our foreign participants claim they wouldn't make it to the event if it were held solely in Portuguese.

To be honest, some of the feedback we got on the text fields points out to some disappointment regarding relevant moments of the event being in Portuguese.

And then there's the final question...

"Would you go to Codebits 2011?"
99% of the participants on the survey said yes.

1 participant said no; 3 said it would depend on things like the rules for the competition.

99% is a lot.

No less than 7 different people summarized the event in a form of "Legen - wait for it 'cause here it comes - dary!"

In contrast, only 4 people summarized it with a version of Soft Kitty.

We might actually have a new meme for next year...
De Couto a 26 de Novembro de 2010 às 21:03
mmm...
How about commenting about the musical event?

There must be a reason about your choice, and when analyzing the graph it clearly shows that it was a deception....

What i mean is... What made you guys think that it was a good choice since the beginning?

Anyway... my survey clearly states that i don't intend to flame, but only to understand! Don't take me wrong =)
De
celso
a 28 de Novembro de 2010 às 00:07
The music event was sort of a mistake we've made, no shame here.

Not that they're bad, they're not, if fact the Future Places people are well known reference in their music scene arena. Just ask anyone into this kind of experimental music.

Fact is, we agreed on a partnership with them, through a good friend, but we naively forgot to check if the kind of performance they would be doing for Codebits would be appropriate for the audience. I guess we were blinded by the Video DJ'ing and "electronic music" bits of the project's description.

Blame it on us if you need, the Codebits organizers, but there's no need to be rude with the band like many have been, they've done their best in a very professional way.
De waldir a 26 de Novembro de 2010 às 22:37
Ohh, so *that* was song sung at the end? Googling around, I found out I actually had seen that scene before, even though I don't usually watch Big Bang Theory. But I would never had figured it out from the terrible collective performance at the event.

First, many of us didn't know what the heck that was, and having only some people singing didn't help bring the moment to the awesomeness level it should have been.

Second, come on, guys!, a lullaby song?! A song made to put people to sleep?! Who's idea was that for a climatic ending? And with all the suspense buildup, it was even more of a let down!

Please pick something more energetic for next year, don't promise more than you can deliver by building suspense gratuitously, and don't maybe rely so much on the crowd for the big moment!

I'm saying this here cause I forgot to add it to the survey. But don't get me wrong, I did rate most things positively :)
De waldir a 27 de Novembro de 2010 às 01:50
Btw, another piece of feedback I forgot to add to the survey: the stickers sucked :( they started losing paint the same day and by now none of them are in the original state... they'd rule otherwise. Oh, and please add a Wikipedia sticker for next year :D
De
celso
a 28 de Novembro de 2010 às 00:09
Yes, the stickers' quality absolutely suck. We used the same supplier as last year's but something went wrong this time. We're not paying for that.
De
Tiago
a 6 de Dezembro de 2010 às 00:14
I know you guys like green but I can't figure out what is what in some graphs. And I'm not color blind. Various tones of green are kind of hard to distinguish, specially with the shinny shading on the charts.
I hope it isn't already too late to reply to this blog post about the "Codebits 2010 Survey".

First of all: I loved the event and I thank you for accepting me, for the 2nd year in a row, to attend it. I realize that organizing an event this big is a huge task and you've succeeded doing it.
Congratulations! :)

Having said that, I have 2 comments:

1st - Like I mentioned in my reply to the survey, there were major sound overlapping issues of the sound coming from the several Speakers (people giving their talks) that were giving their sessions simultaneously - in different stages, of course - at any given time, creating lots of NOISE. That made very hard to follow each talk.

I guess the sound problem may be due to some fixed setup of the "speakers" (sound devices) in Pavilhão Atlântico (maybe it's currently "optimized" to "stream" the same sound - from a singer or band - and NOT different sounds, like it happens in Codebits, where several presenters speak at the same time?)

Anyway, PLEASE consider fixing this sound problem for the next edition, OK? :) If that requires using a different venue... so be it.


2nd - I see that, as of today (8th Dec 2010) the Videos for the several talks are online in the page of the respective talk. That's great. Thanks! :)

However, I CAN'T find the "Slide" / Presentation files in those same pages, and at least one speaker (Lenz Grimmer) mentioned that he could not find a way to upload his slides - http://codebits.eu/intra/s/session/114

Will the slides be put online in each talk page, like it already happens for the videos?


Thanks in advance! :)

De Pedro Correia a 21 de Fevereiro de 2011 às 17:10
Pessoal já estamos em Fevereiro e ainda não sabemos nada sobre o Codebits 2011 :p Vejam lá isso que já está quase a começar ;)
Onde estão as novidades que se falou no Codebits?

E os vídeos dos projectos de 2010 e tal.