Sábado, 12 de Novembro de 2011
The following people have pre-ordered books at the O'Reilly stand:


Carlos Ricardo Santos
Carlos Silva
Florentino Bexiga
Gonçalo Silva
Gonçalo Valério
João Xavier
Marco da Silva
Maurício Martins
Pedro Costa
Pedro Simoes
Tiago Sequeira
Ricardo Ferreira
Ricardo Dias Marques
Luís Filipe Oliveira
Simão Mata
Go get them now.
Sexta-feira, 14 de Outubro de 2011
Yes, it's true. Once again lovely Josette from O'Reilly will be at Codebits, and she will bring books. Lots of books.
And again, we managed to set up a webpage where you can pre-order your books *. Just add a comment there with your orders and Josette will bring the books you request so you can purchase them.
Oh, did we mention the 40% discount?
Yes, 40% discount.
Don't forget to thank Josette and O'Reilly.
Relevant notes:
we'll be sending the list of books to O'Reilly by the end of October 22nd, which gives you over a week to make your pre-order;
please leave a comment per book, and not a comment with dozens of books (it makes our lives easier);
prices are listed in Euros; you can pay with cash or card, but cards will be charged in GBPs, and not at the current exchange rate; there will be a list of prices in GBP at the O'Reilly stand and you make the choice of how to pay on the spot (we do have the prices in GBP, but for the sake of readability we ommited them from the list);
make sure you're approved for Codebits before you pre-order books (you have until October 22nd to order them and we're expecting to close the candidate moderation process very, very soon);
and yes, you'll be able to purchase books on the spot regardless of pre-ordering them; this is just a way to help Josette with the choice of books to bring and to make sure your books will still be available even if you're not the first to get to the book stand.
Have fun browsing the list!
* - if at some point you find yourself at a page listing books but with no way of making orders, make sure you're seeing this year's list, and not last year's.
Quinta-feira, 11 de Novembro de 2010
It's hard to miss, but we still thought we'd let you know.
As you enter the main room, if you turn to your left you'll see a large bench with dozens and dozens of books and a bunch of people deciding what to buy.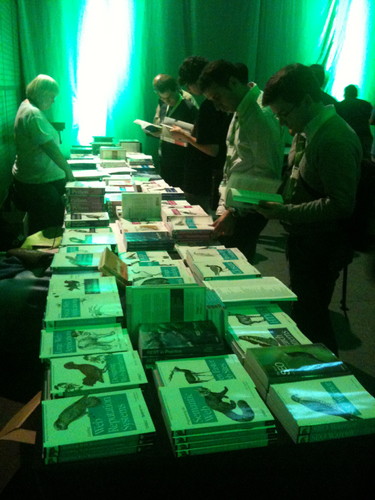 Segunda-feira, 25 de Outubro de 2010
Once again, Josette will be present at Codebits, representing O'Reilly.
As if that wasn't great by itself, she'll be bringing plenty of O'Reilly books to sell with a 30% discount.
And, as if that wasn't awesome enough, she spoke to us about letting attendees select which books they'd like to purchase in advance, so she can try to bring all the books everyone wants. And then some, just in case you don't order anything but end up wanting to buy something.
With that in mind, we set up a page where you can see the list of books and fill in which ones you want to purchase at Codebits. The list includes the title of the books plus their prices in Euros before and after the discount (so you can tell how much cheaper you'll get them).
Things you need to know:
we'll be sending the list of orders to Josette by the end of October 26th, so at the time of this writing you have roughly 24 hours to state which books you want; please don't miss the deadline;
prices are listed in Euros; you can pay with cash, but if you pay with credit/debit card you will be charged in GBP, and not at the current exchange rate; there's actually a list of prices in GBP, but since they are relatively similar to the ones in Euros, we chose not to include those two extra columns for the sake of readability; we suggest that you select the books you want and decide whether to pay in EUR or GBP at the venue.
Just to make it clear: yes, even if you don't fill in any information you will still be able to purchase whatever you want; this is just a way of making several people's lives easier, by allowing them to order books they'd like to purchase and have them available at Codebits, probably with their names on a post-it.
Anticipating the "I won't be attending Codebits but would still like to purchase some books" we'd like to suggest that you find someone who will attend and ask that person to do the ordering and purchasing on your behalf.
Domingo, 11 de Outubro de 2009
O'Reilly, a regular presence at Codebits, will be present once again this year.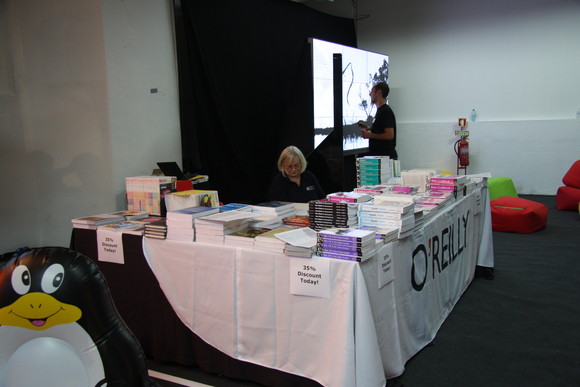 Josette Garcia will be at Codebits with an O'Reilly stand in which you'll be able to buy books with 35% discount.
That's right.
35%.
Off.