Segunda-feira, 14 de Novembro de 2011
Codebits attendees just got an email with the link to a survey about the event.
Your honest feedback is very important for us, please take 10 minutes and answer the questions, it will help us improve the next edition even more.
The results from this survey will be summarized in our website pretty soon. Thanks for your participation.
Sexta-feira, 26 de Novembro de 2010
When analyzing the survey for this year, the first thing we noticed was the ratio of feedback.

Back in 2008, and over the course of ~1 month, 49% of the attendees took the survey.

Last year, 2009, and once again over the course of ~1 month, 60% of all attendees took the survey.

This year, and over the course of only 48 hours, 73% of the participants took the survey!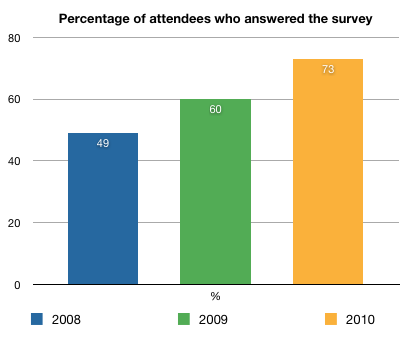 This fact alone says a lot.

Let's talk a bit about demographics.

38% of our attendees seem to be in their early 20s. We have 3.5% stating they're under 20 and 9.4% being over 35.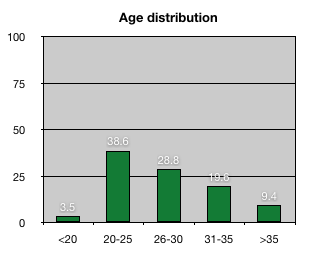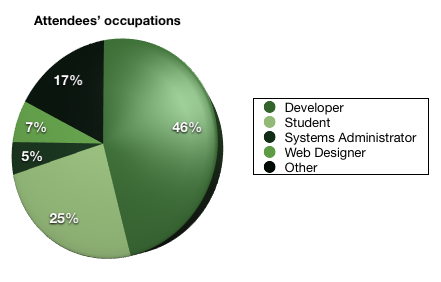 46% of the respondents claim to be developers and 25% claim to be students. We also got nice numbers for systems administrators and web designers. From the answers on the "others" field, we clearly should add options for "teacher" and "researcher".

Overall, we had 49% replying that Codebits was "Awesome" and 44% saying it was "Pretty cool". That's an overwhelming 93% good feedback.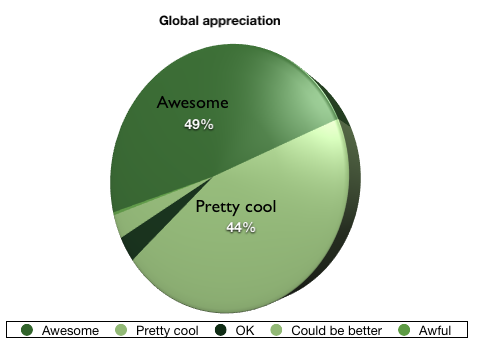 "How would you rate the event when it comes to..."

We got incredible feedback regarding the venue. 64% rate the location of the venue as being "awesome", with 28% rating it as "pretty cool". As for the venue itself, we have 44% "awesome" and 41% "pretty cool".

The registration process got 53% awesome and 34% "pretty cool"; we have definitely managed to improved this point since last year.

The worse points seem to be Working Conditions and Internet Access.

Internet Access got 4% "awful" and 19% "could be better" (yes, we understand we said "worse points" and this is not too bad, but it's still one of our worse points).

We don't take this badly because:
we always know from the beginning that this is probably the hardest task in the whole thing
we know that we did the best we could, working 24h/day to fix every network problem that would occur
this feedback is better than the one from last year
Bottom line: we have improved.

For the sake of clarity, Internet Access got 28% "OK", 31% "pretty cool" and 17% "awesome".

Working Conditions got 2% "awful" and 18% "could be better". We know that most of these 20% result from the lack of tables and chairs on the first day of the event.

We don't organize Codebits lightly, and the lack of work spaces had reasons to be.

Our statistics from previous years tell us how many of the accepted attendees will be there on the first day and how many of those will be sitting down working on projects.

Somehow, statistics failed us.

People showed up sooner and in larger numbers than expected. We were proud of that, but sadly we were not properly equipped.

Also, having a major international event occurring right after Codebits in Lisbon didn't help; you wouldn't believe how hard it was to get all the seats we got. As mentioned in a previous post, we had people running around the city looking for alternatives.

On the morning of the second day, more tables and chairs had been acquired and were ready to be used.

For the record, Working Conditions got 29% "OK", 37% "pretty cool" and 13% "awesome".

Let's head on to the satellite activities.

Analyzing the feedback regarding the satellite activities one can tell we did a pretty good job.

Retro Computing and Nuclear Tacos seem to be the activities with a better feedback.

Security Competition, Presentation Karaoke, Quiz Show and the DIY area have also received very good feedback; we're both proud and grateful to those who helped organize these things.

Here's the graph you're probably looking forward to.

Language.

70% of the participants believe that Codebits should keep having English and Portuguese. 22% suggest English only and 8% point towards a Portuguese only event.
It's also interesting to note that 75% of our foreign participants claim they wouldn't make it to the event if it were held solely in Portuguese.

To be honest, some of the feedback we got on the text fields points out to some disappointment regarding relevant moments of the event being in Portuguese.

And then there's the final question...

"Would you go to Codebits 2011?"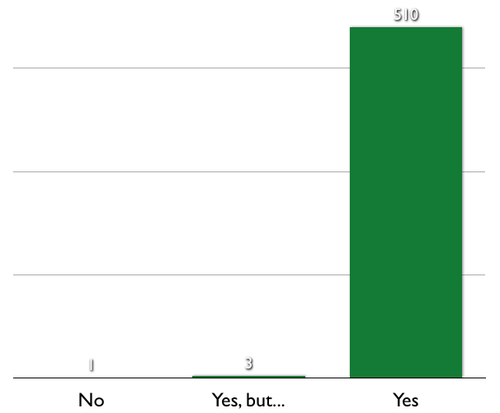 99% of the participants on the survey said yes.

1 participant said no; 3 said it would depend on things like the rules for the competition.

99% is a lot.

No less than 7 different people summarized the event in a form of "Legen - wait for it 'cause here it comes - dary!"

In contrast, only 4 people summarized it with a version of Soft Kitty.

We might actually have a new meme for next year...
Segunda-feira, 15 de Novembro de 2010
One hour after everybody left the building we had pretty much started the disassembling process.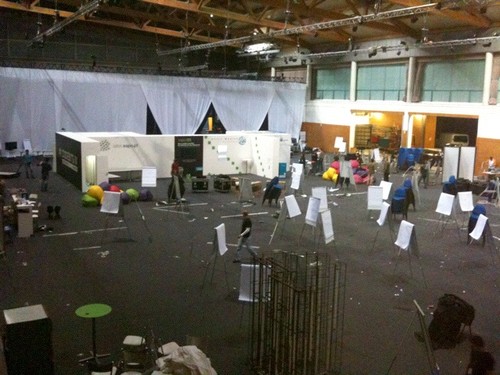 But Codebits isn't over yet...
We still have to send prizes to several participants, we haven't announced the five winners of the Photos competition and we might have to deal with several lost & found situations.
We literally received thousands of messages during these three days and we haven't been able to read them all, but we're taking care of that.
There's also a lot of information we want to make available, and we'd like to help everybody track the projects started at Codebits. We have no doubt many of them have a bright future ahead.
We need to thank dozens of people for the help they gave with preparing the event and keeping it under control, and we need to thank everyone for participating and contributing to make Codebits IV the amazing event it was.
In the meantime, we're also interested in knowing what went right and what went wrong, what should be improved and what should be kept for further editions.
To that end, everyone who was accepted to the event should now be receiving an email with the details to fill in a survey with their thoughts.
As soon as possible we'll give you further news on what's going on, the results of the survey and probably a few other things.
Quinta-feira, 10 de Dezembro de 2009
We launched the Codebits survey around 48 hours ago and already 350 people took the time to give us their feedback (thank you so much).

We're going through the answers now, and we'll keep looking at the new ones, but there are already a few topics we'd can/want to address (and not "abord"; duh).

Global appreciation:

We had a very small number of people who felt rather indifferent to Codebits or who didn't enjoy the event and an overwhelming percentage of attendees (92%) who claim to have had an amazing experience.

We're very pleased with this outcome; it's always expectable that not everybody loves a conference, but that number is so low that we can't help but feel that the job was well done.

But let's move on the next topics.

Language:

As we mentioned in some emails, we had several internal reasons for choosing English as the main language for Codebits. Even so, we still had lots of content in Portuguese.

Even before the event took place, we got some angry emails about this choice; just a couple, but strong enough to make us wonder about it.

But now we're seeing what the attendees (and speakers) think about this move, and it's almost unanimous: almost everyone seems to feel that either the choice of language is irrelevant or that English should be assumed as Codebits' main language.

Pornophonique:

We also had some reservations when it comes to a concert but it's now clear that this was one of the best choices for this year.

Over 70% of the attendees who took the survey claim that a concert inside Codebits does make sense (there's event a couple of people suggesting two concerts). When it comes to bringing Pornophonique back again opinions get divided, but not because of their quality, just regarding the possibility of bringing someone new to Codebits.

Attending 2010:

Can you guess how many of the surveyed attendees said were coming back again next year?

Almost all of them, and most of the ones who didn't give a simple yes as an answer took the time to write things like "if you accept me…"

Voting:

Apart from the straight answers there is also very good feedback on the text fields. We haven't read all of it yet (we're working on it), but there are some very interesting points there. One of them is related to voting, and thus we think it's appropriate to describe exactly how it went.

A group of five people was discreetly taking notes about the projects. The audience was told their votes would decide the winners, and that was correct, and we also said there would be some minimal tweaks to the results.

The system in place was smart enough to remove the votes of some users following specific patterns (sorry, no disclosure here).

As soon as we gathered to decide the winners we did two things:
list the 15 projects with better (valid) voting; 
list all the other projects not on that list but that had made an impression strong enough to be on our notes.
The next step was finding which of the first 15 projects were also on our notes, and these (6 or 7) were clear winners - the audience had enjoyed them and so did we.

Next we went through the list of projects we had listed to find out how many votes each of them had received and we discussed among our small group which projects should also be distinguished.

There were a couple of projects not on the 15 most voted that got a prize, and there were a couple of projects on the 15 most voted that were not in any of our lists but that we gave a prize anyway based on the audience feedback.

It's worth noting that there were problems with the voting of one project and we did take that into consideration.

A few comments on the survey were related to the contest but not to the voting system. There were some suggestions that people working at SAPO shouldn't be allowed to participate...

Well, there were over 150 of those, and it doesn't make much sense for us to organize such a cool event if our 150 people won't be able to participate. Also, no member of the jury was part of a group and the selection of winners was made with the projects in mind, and not people; names weren't even mentioned during the short meeting we took, only projects.

As a side note, it seems (at a glance) that less than half of the prizes went to people working at SAPO, so there can't be any complaints there.

That being said, the general rules/guidelines for the contest may be just slightly tweaked for next year, but we're not expecting any major redefinition of the contest. As for the process to pick the winners, that has changed drastically every year and we're still not happy about it, so we'll probably use some of the suggestions provided on the survey.

And finally, a (more or less) random selection of comments:

"I think the people who signed up and then din't come to the event should be kindly rejected in next year. I know a couple of people, which signed up and were pure lazy to come (no day at all)."

This attendee does have a point… Kudos to all of those who dropped us an email or a twitter dm before the event letting us know they wouldn't be coming.

"some coaching done to contest presenters would be nice."

We agree and we already have a plan in this regard for next year.

There were also several comments regarding the temperature in the building, recycling bins and the possibility of having showers somewhere in the vicinity. We'll take all this into consideration for next year.

And finally, one last comment we enjoyed:

"We're almost there, only 12 months left !! ;)"

That's the spirit :-)

Soon, more information on the winning projects.
And yes, we'll take all the feedback we're getting into consideration for next year.
Terça-feira, 8 de Dezembro de 2009
Codebits attendees just got an email with the link to a survey about the event.
117 people have already replied. Thank you so much.
Next up, the missing videos and slides and more information on the projects (we're working as hard and fast as we can).